AWANA is a Bible-based club that gives children the opportunity to know, love, and serve Jesus Christ all while building a relationship with their fellow club members and their group leaders. For over 70 years, the Lord has used the ministry of Awana to reach kids, equip leaders, and change the world while engaging in fellowship and having fun in the process.
Children will be engaged through exciting games, story-telling, crafts/activities, and biblical teaching. The children will work on their workbook both at home and in class to earn badges, awards, and certificates of completion.
AWANA meets on Sunday nights, and runs through May 21, 2023.
Who can participate in AWANA?
Any child 3 years old and potty trained through 5th grade may participate in AWANA. Everyone is welcome to attend whether you are a member of First Baptist or not! We offer three different clubs divided by age group: Cubbies, Sparks, and Truth & Training.
Cubbies
Ages 3-5
Cubbies introduces preschoolers to God, His Word, and His love through story time, crafts/games, memory verses, and handbook activities.
Sparks
Kindergarten-2nd grade
Handbook activities and group lessons introduce this age group to people throughout the Bible. As they build on the foundation of God's word, clubbers will also be memorizing Bible verses and completing handbook activities at home each week. Game time develops good sportsmanship and encourages teamwork.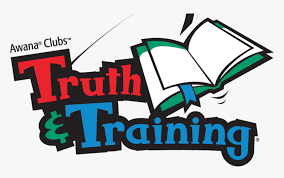 Truth & Training (T&T)
3rd-5th Grade
T&T engages clubbers by answering their questions about God and the Bible, putting their knowledge about God into action in their everyday lives, and helping clubbers continue in their relationship with Jesus. Each week, they will be memorizing verses and completing handbook activities. Game time develops good sportsmanship and encourages teamwork.
How Much Does AWANA Cost?
The yearly dues, uniform, and handbook costs are shown below. Dues cover expenses such as awards/badges worn on the uniforms, prizes, candy, supplies, and other expenses incurred by the club throughout the year. The dues do not cover the cost of uniforms or books.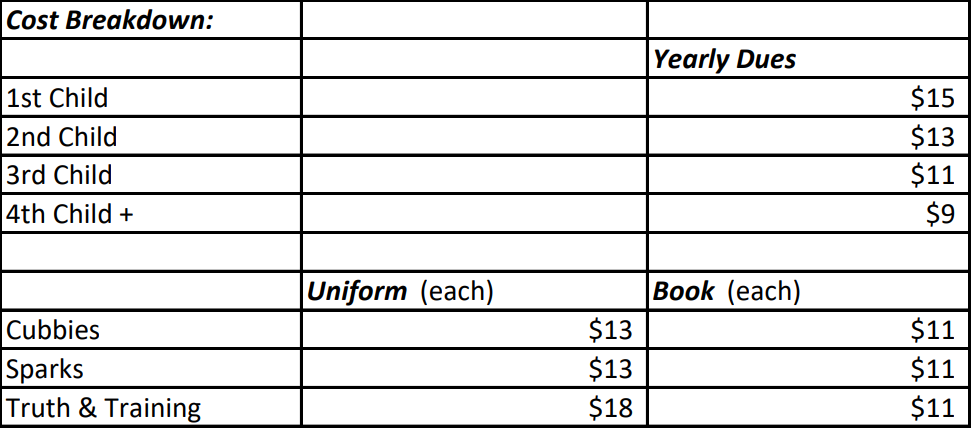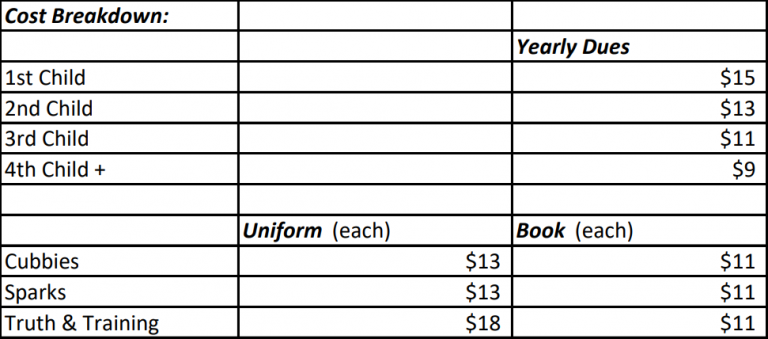 Optional items available to purchase are the Cubbies and Sparks handbook bags for an additional $7 each.
AWANA 2022 Registration
Register your children now for Awana at First Baptist Church of Canton! Please fill out separate forms for each child attending Awana.
Payment for Awana can be done by bringing cash or check (made out to First Baptist Church of Canton) on the first day of AWANA, September 11th.
Online payment for AWANA coming soon!
Have a question about AWANA? Email our directors here: